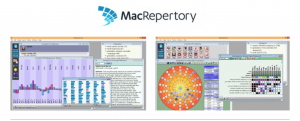 Let us introduce you to MacRepertory, our repertorization tool. MacRepertory makes it easy to quickly select and analyze rubrics, get ideas for remedies, check the materia medica, do a bit of research and feel confident about your prescriptions.
MacRepertory offers full functionality tools, such as sophisticated search tools and powerful analysis options as well as advanced customization and analysis features. Explore our five editions to find the combination of resources and price that suits your needs.
MacRepertory is the perfect software for homeopaths who want a powerful, complete solution. This helpful program provides room to grow as your learning expands – and serves as a teaching tool through its many books and resources.
MacRepertory allows you to create and save patient charts (complete with remedy plan) and save the reasons why you selected a remedy; collect and save other remedies to consider; create graphs of your analysis, and much more.
Having trouble remembering where a rubric is in a repertory? Conduct a word search and find it with the click of your mouse. Need to find all of the occurrences of a remedy in a repertory? Conduct a remedy search and they're all located in seconds. You can even import a rubric from ReferenceWorks to improve your case analysis.
For full and up to date details please visit Synergy Homeopathic